Uniting for STEM Inclusivity: Future World Vision STEM Pathways Consortium Conference
On December 10, 2022, Future World Vision STEM Pathways Consortium held its first conference at Brooklyn Tech with over 300 attendees. The Consortium, previously known as the Brooklyn Tech/National Grid STEM Pipeline, is a program that introduces middle school students to STEM disciplines. Currently, Tech is the only high school partnered with the American Society of Civil Engineers (ASCE) for engagement in the STEM field. The meeting brought the Tech community, The Brooklyn Tech Alumni Foundation, ASCE, and seven Consortium middle schools together with the main goal of promoting STEM inclusivity.
NYC's total student population is 24.4% Black and 41.4% Hispanic, but in 2020, just 3% of Black students and 4% of Hispanic students who took the SHSAT were offered a seat at a specialized high school. At the schools the Consortium works with, the student bodies are 53.3% African American and 35.7% Hispanic. To increase racial diversity in STEM fields, and in specialized high schools, the Consortium selected seven middle schools whose populations are primarily African American or Hispanic.
This year's conference stressed the importance of the Consortium schools, ASCE, National Grid, and Tech working together to excite underrepresented middle school students about STEM education. "We're [Tech] underrepresented in terms of the city population, so we felt with the consortium activities, we would have a bigger impact," said Dr. Matthew M. Mandery, the Chief Educational Officer of Tech's Alumni Foundation and Director of the Consortium.
The meeting began in the auditorium with opening remarks from Dr. Mandery. He focused on the need to provide underprivileged students with materials such as Climate Innovation Challenge (CIC) videos and Tech students' projects that could introduce them to STEM, with ASCE's Future World Vision plan as a model. ASCE's Future World Vision plan identifies six STEM trends: alternate energy, autonomous vehicles, climate change, smart cities, high-tech construction and advanced materials, and policy and funding. Through scenario forecasting and research, students create solutions to global problems, and find inspiration to pursue STEM careers.
During the opening session, Feniosky A. Pena Mora, a Professor of Civil Engineering and Mechanics at Columbia University, joined by ZOOM to discuss the significance of Tech introducing middle school students to STEM.
After the opening session, the Consortium students toured the building and participated in Tech students' STEM presentations.
Tech programs, including NSBE and Environmental Science, presented their projects to Consortium students while parents toured around the building. Each program was paired with a school based on the preferences of teachers at the Consortium schools. The club projects are meant to motivate middle school students and improve the STEM programs at Consortium schools. Mandery explained, "You can't have students going on to Tech and going onto college to do STEM fields without them knowing the 'power' of STEM and giving them the background they need."
NSBE presented their drone project to MS 113. NSBE introduced students to Autodesk Inventor to teach the basics of engineering and preview building drones in the future. Yana Eber ('23), the Publications Chair of NSBE, said, "Engineering is often not learned in high school. It's often introduced later on in life so it's nice that the kids are getting early access to the basics of engineering."
Additionally, NSBE presented the application of drones to parents. Two of the significant functions of the drones are to scan garbage in the ocean and check for forest damage.
The Environmental Science students designed a passive miniature hydroponics greenhouse system made of upcycled plastic bottles as their project for MS 691. Afterwards, the Environmental Science students showed MS 691 students the hydroponics, aquaponics, and living plant wall systems at Tech. The passive miniature hydroponics greenhouse system was designed specifically for the Consortium Schools.
For Dr. Margarita, an Environmental Science teacher, the ultimate goal of this project is to "inspire young people to get into STEM careers and encourage middle school teachers to explore sustainability issues."
All of the presentations are geared towards inspiring the younger generation to pursue opportunities in STEM. NHS Alumni Services Committee Junior Chairperson Teresa Xiao ('24) expressed, "A lot of middle-school students haven't experienced STEM beyond the standard classes, and hearing presentations from passionate people can spark an interest in them. For this reason, the most important thing we do during this consortium is allowing middle school students to engage in STEM."
Ultimately, the Consortium envisions creating a model that can be replicated by other high schools and middle schools. "Future World Vision is saying to young people, including Brooklyn Tech students, we can make a difference in this world," Mandery stressed.
Leave a Comment
About the Contributor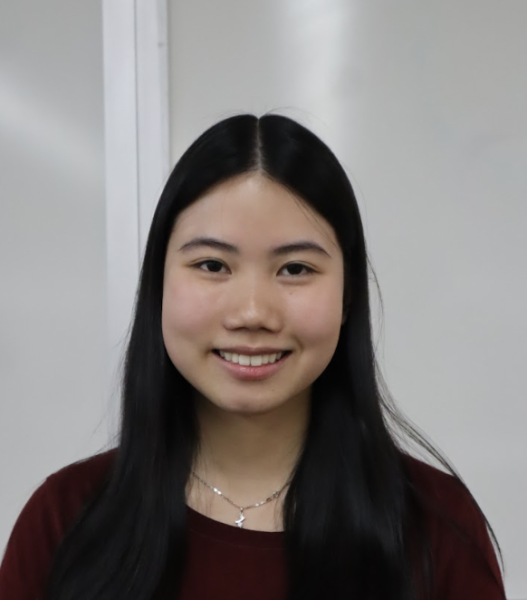 Michelle Zheng, Senior Executive Editor
Michelle Zheng (she/her) is the Senior Executive Editor and a Co-Editor of STEM. Michelle joined The...