After a depressing 1-14 record over two trying post-pandemic seasons, the tide seems to be finally turning for Tech's football team. 
With only three games left in the regular season and a current record of 4-1, the team has made undeniable progress and displayed perseverance on the field. But the successes don't just happen overnight. Coming off a winless season, Coach Pugh, the football team's coach, lauded his player's dedication to getting bigger, faster, and stronger. He noted that "they looked like a different team this year." 
The new season has come with adjustments for the league as a whole. For starters, the Public Schools Athletic League (PSAL) completely reorganized its varsity football program this off-season. There are 57 teams in the league, which were split into two divisions last year: A and B. This season, however, the league expanded to include four new divisions, A, AA, AAA, and AAAA, which redistributed the 57 teams in the league based on last year's seeding. Those with a higher record of wins moved to the higher divisions, while those with lower records moved to the lower divisions. Tech was placed in the AAA conference, a smaller set of teams made up of schools from the A conference last year. However, this set had similar winning records, allowing 
for more competitive and evenly matched games. 
Brooklyn Tech's varsity team kicked off the season on William E. Grady High School's home field and emerged with a 20-0 win that has set the tone for the season thus far. "Immediately, the team felt completely different," said co-captain Abdur Rahman ('24), who has taken on offensive and defensive positions this season. "The rest of the game [we] were knocking people out. We got interceptions. We were running faster than them, we were hitting harder than them." Though it was a game versus an AA team in a lower division, it was a crucial confidence builder as the engineers entered the PSAL season. 
"The vibe and attitude is different this year. We're not just a bunch of kids messing around hoping for a win," said Elijah Hendrich ('25).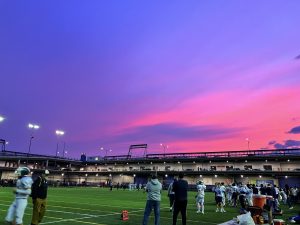 Tech's first league game was another blowout, this time against AAA for Christopher Columbus Campus in a 41-0 rout. Quarterback and co-captain Jackson Janes ('24), now in his third year as a starter, threw two touchdown passes, and sophomore running back Tristan Suarez ('26) led the engineers with 44 yards and a touchdown. Co-captain defensive lineman William Marley ('24), led the defense with two sacks. 
For Janes, it has been a struggle at times to lead his team into the endzone, but now as a senior, he's taken his performance to a different level, having already surpassed his touchdown total from the previous two seasons combined. "We've seen Jackson make huge strides from his junior to senior year – you can see his experience taking hold," said Coach Pugh. Janes, who worked hard all off-season to improve his decision-making, admitted, "Last year I was still a bit overwhelmed by all the things I had to memorize and do as a quarterback, but now that I have all that down, the game is getting a lot easier and more fun."
Though the PSAL season had already begun, it was Tech's second game against Stuyvesant High School that caught the attention of the student body – a heated specialized high school rivalry with the chance for the Engineers to reach 3-0. 
Tech students, decked out in all white, flooded Pier 40 as kickoff approached. From the first whistle to the last, the Engineers cruised to a 20-0 win. Despite a quiet performance from Janes, Tech controlled the game with another balanced ground attack, racking 144 yards on just 21 carries. 
Even with such a positive start to the season, Coach Pugh remains focused on how far the team still has to go. "The fact that the score was only 20-0 in the Stuy game means we didn't fully execute," said Pugh. "We left a lot of points on the field that we could've scored." 
Indeed, the season has not been perfect.  A matchup against McKee/Staten Island Tech proved a challenge, handing the Engineers their first setback in an 8-7 defeat, but considering the 20-8 loss they suffered to Staten Island Tech just two seasons ago, it was a sign of improvement 
During their game against Flushing High School, Tech brought it home with a 27-0 thrashing on their field; a hopeful indication that the previous loss was just a bump in the road. A week later, they won, 32-6, against previously undefeated John Adams, putting them in 3rd place among their AAA foes. 
The message on the players' end was no different. Hendrich touted a team-wide three-day retreat to Camp Equinox as a turning point. "With three practices a day, we all learned so much and it whipped us into shape," said Hendrich, who has emerged as a top target out wide this season. Players have also been very appreciative of the coaching staff, who after a winless season have instilled the starting quarterback and the entire team with confidence and belief. " We really feel supported by them and want to succeed for them," said Janes. 
As they approach the start of the playoff season in November, the team will be looking ahead at a chance to win the Division AAA city championship. But no matter the changes and challenges that face the team as they make their return, one thing is sure: varsity football's comeback season has begun.