The Mystery of the Principal's Apartment
Many of us have heard a vague story of a former principal sleeping in an apartment above Brooklyn Tech's ninth floor. Some believe it to be a myth, while others accept it as fact. How real is it? 
The space certainly exists. Two flights above a locked gate on the ninth floor sit a series of small, empty rooms, marred with water damage and peeling paint. The entrance hallway has an empty coat rack. A defunct, scrawled-up fireplace hints at a living room. A small bathroom with a shower sits untouched. Exits lead to two private terraces sporting panoramic views of Brooklyn. It's easy to imagine this as a place to live — a story faculty, including Principal Newman, have been sharing for years.
The story that Newman tells is that the founding principal, Albert Colston, would frequently visit the building while it was under construction and often spend nights in the space above the ninth floor. He purportedly maintained a vegetable garden on one of the terraces and continued to use the rooms sporadically until his retirement in 1942. "A lot of old stories, that's just how I know a lot about Tech", Newman says. "People sat me down and [were] like, 'You know, he'd stay here all the time'. And I've always heard the punchline to that story that he was the only principal to ever use it, and after that, it was sort of dismantled and looks similar to the way it looks today."
The story lives on through word-of-mouth, but no actual documentation exists of the space having a previous use as an apartment.
A 1933 certificate of occupancy lists the use of the floor as "classrooms," while architectural plans label an office and a "navigation" room. Some long-retired faculty claim the space was used for entertaining guests. In the 1950s, radio station WNYE used it as a script office. By the 1970s, it fell out of use. Matthew Mandery, who served as principal in the 1980s, remembers seeing wooden planters on the balconies, which have since been removed. The only real remnant of a living space is the presence of a shower — apart from the locker rooms, no other area in the school contains showers.
For the most part, the floor has been forgotten and undocumented for the better part of its 90-year existence. As Newman puts it, "No one really goes there." 
The water-damaged walls and lack of furniture make that clear. "It's not about money, it's just about the sheer space of it, I don't see it as usable", he says. "If somehow I could figure out a way to turn it into a classroom, I would do it."
"I mean, to turn it into an apartment, I'm not doing. You know, I'm not staying in the school and sleeping here overnight, and I'm probably not even allowed to. And I'm not gonna fix it up, even if it is true just so I could show people, 'This is what it looked like! You know, 80 years ago, when he slept here! That's his shirt!' Like, that I'm not doing," he added. 
Any plan to reuse the space would also face another barrier — a physical one. The cage door on the ninth floor prevents unauthorized access to the water tower, which is above the supposed principal's quarters. The tower's three enormous metal tanks provide the water supply for the entire building, and each tank is open to the air. In order to allow students above the ninth floor, the school would need to remove the cage door and figure out a way to limit entrance to the water tower.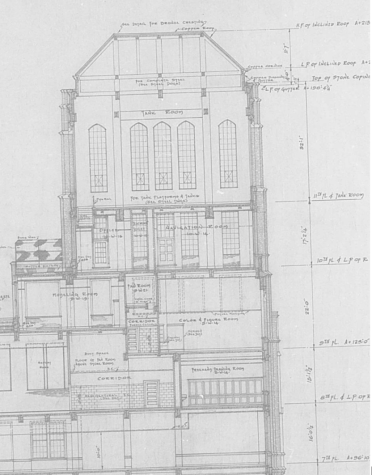 Regardless of whether or not there was ever an actual apartment, people have certainly spent the night at school before. "I slept here once, I have to say", Newman laughingly admits. "I probably wasn't supposed to sleep here, but I slept here once, on this very table [in my office]. I tried to sleep, and then I ended up, I think, sleeping on the floor. It's just when you're working very late, and you realize that you have to be back very early." 
We may never know if founding principal Albert Colston actually slept in an apartment above the ninth floor. While some accept it as fact, there is not much concrete evidence to support the theory. For the foreseeable future, the unknown, empty space 150 feet in the air will sit collecting dust and paint chips, its context lost to history. Perhaps one day this mystery will be solved, but for now, it's left to our collective imagination.