Clearing the Competition: Varsity Lacrosse's Win-Win Seasons
On June 4th, both the girls and boys varsity lacrosse teams headed to Curtis High School with PSAL Championships on the line. Coincidentally, both teams won in upsets with scores of 8-7, gracing Brooklyn Tech with double banners.
The Girls' Team
The #2 seeded girls varsity lacrosse team entered the playoffs having only dropped two very close games earlier in the season: one against Frederick Douglass Academy (FDA), an 11-12 loss, and one against the defending champions, Hunter College, a 7-8 loss. While FDA was a new addition to Division AA, it was far from the first time Tech and Hunter had met. These two teams have traded wins since last season, which ended in a heartbreaking overtime loss (6-7) for the Engineers in the finals.
Despite their initial loss to Hunter, the team was able to claim a 6-5 win shortly before the start of playoffs, which restored confidence and motivation. However, the possibility of meeting Hunter again in the playoffs remained a large mental block for many of the players.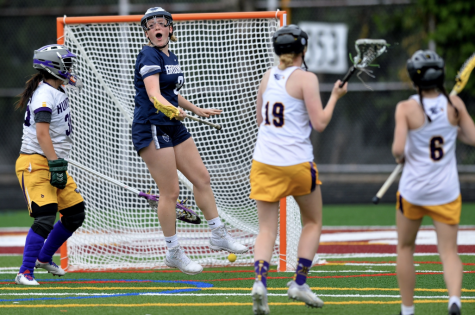 "A lot of the girls on my team were saying that they would rather have lost in the semifinals to another team than have to face Hunter in the finals again," said Florence Sullivan ('25), who scored three goals in the championship match. Sullivan shared that the pressure deeply affected her overall playoff performance, citing her goalless semifinal performance against Susan E. Wagner High School. "I was so frustrated after that game that I think it also helped my performance in the championship."
Having only lost four seniors going into this season, and training throughout the summer, the Engineers were more than ready to face their opponents, defeating most by large margins.
"I obviously feel bad," said Captain Ella Wang ('23) about their blowout games, "but we would run plays that we want to try and give some new people some experience on the field, too."
This paid off, and many freshmen and sophomores were able to step up and contribute when necessary. Crystal Tsang ('25), who did not have any experience playing lacrosse until January of this year, took on an important role as the goalie. Sullivan and Divya Parikh ('25), a duo affectionately known as Div and Flo, were also each able to score their 100th goals as Engineers this season.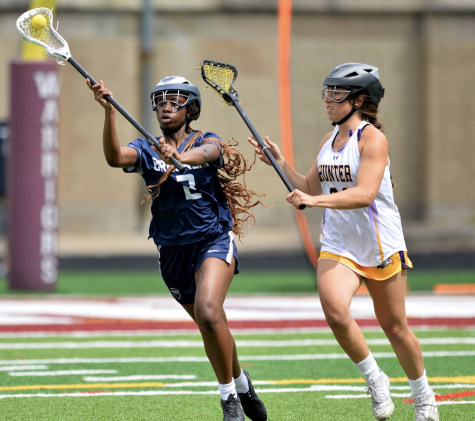 The camaraderie between the players was a huge factor in their success. They bonded during the bus rides, team breakfasts, and other events, which allowed them to work well together on the field.
"We were winning, which was great," said Captain Sadie Rauchberg ('24). "But we were also just having a lot of fun."
Many of the girls shared that they were primarily motivated by each other and making the team proud—a testament to their friendship and dedication to each other.
"Our championship victory was pure grit and team spirit," said Sullivan. "Every single girl on the team was essential to our wins, and I wouldn't want to be a part of any other team."
The Boys' Team
After being out of commission since 2018, the #3 seeded boys varsity lacrosse team was revived this year, ready to vie for the PSAL title. Tech's current juniors took the lead, guiding a team of mostly rookie recruits.
"I think the main part that was inviting to all the new players was the brotherhood around the team," said Jakub Fratczak ('24). "Everyone coached each other."
Though they were only able to find a coach and start playing in the PSAL this season, the team's older players also spent the previous season training; an experience that proved to be extremely valuable. "It was a time to learn the game and get that team chemistry and bonding without a coach's presence there yet," said Otto Lannert ('24), one of the team's captains.
All the hard work and preparation paid off this season, as the team beat other schools by ten or more goals in most games. However, challenging matchups against schools like South Bronx Preparatory and Eagle Academy, which were more closely contested, presented growth opportunities. "That's where we started to actually face problems, and that's where we started improving because we were able to find where our problems lie," said Samuel Ashkenas ('24) about a rare early season 7-11 loss to South Bronx.
The team's final was also against South Bronx, the #1 seed in the tournament. South Bronx had taken the win both times the teams met. However, the Engineers were deeply motivated after coming off an upset against the #2 seed, Eagle Academy, in the semifinals. "You're walking onto that field knowing there's a lot of people looking at you…so it's daunting, but I know I'm going full steam ahead and trying my best," said Ashkenas.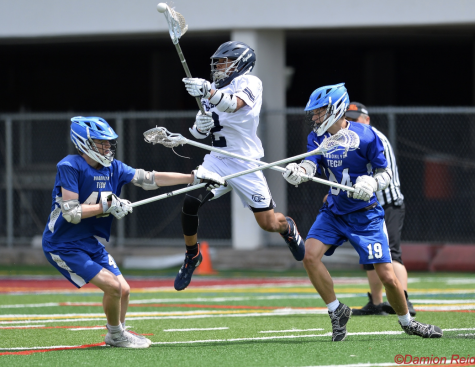 Despite not scoring any goals in the final quarter, the team was able to hold their ground and emerge with the championship title; a perfect way to sound off Tech's varsity boys lacrosse revival. They were also able to move up a division, which means facing off against even stronger teams next season.
"There were about four people on the team that had previously played lacrosse before joining our team, so the fact that we got to the finals as a group and got the win just shows how much work and effort we put in as a team," said Lannert. "I'm just really proud of everyone who put in the sweat over the whole year."
The future of boys varsity lacrosse at Tech is bright, with the team's players constantly focused on improving. A few notable players were only freshmen this year, including Quentin Delgado and Ian Yun, who scored a combined 136 goals for the team throughout the season.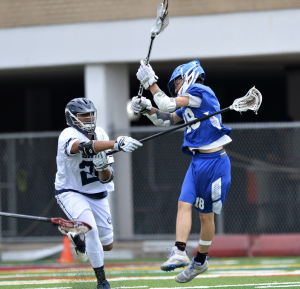 "We have a good foundation, so right now we're going to be more focused on building the work ethic and making sure that we're mentally prepared to always get better," said Josh Reuben ('24) of the team's outlook on the future.
Through overcoming challenges and celebrating accomplishments, both teams stressed the profound impact their coaches had on their performance this season.
Carla Sigona, who has coached girls' varsity lacrosse since 2017, will not be returning next season. However, the esteemed reputation she has cultivated for the team as a passionate and determined coach will live on through the players. "When you think of Tech lacrosse, you think of Sigona," Rauchberg said. "Her career has been extremely impressive, so it's going to be a huge adjustment. But I think she's given us such a strong foundation that we'll be able to continue her legacy."
On the boys' side, Christopher Sullivan, who was a celebrated lacrosse player at Villanova University, stepped up as coach this season. His experience and passion made the players into a championship team, an effort that is deeply appreciated. "The fact that he was able to just bring us to this moment at all… was insane on his part. He truly did save our season," said Fratczak.
The varsity lacrosse teams of Brooklyn Tech brought immense pride to the school this year, and with the talent and grit we have seen on the field, their next seasons will be ones to watch.
Leave a Comment
About the Contributors
Rachel Mak, STEM Editor
Rachel Mak (she/her) is a Co-Editor of STEM and a Layout Editor. With her position on The Survey, Rachel...