Brooklyn Tech's Tradition of Rock & Roll
If you have ever walked past 6E20, you have probably seen a lonely flyer pinned to the wall, seemingly having been there for months, untouched. In an unassuming font, the plain black and white paper reads "Teenage Bass Player Needed for a Teen Rock Band," put up by a "teen rock band" called Bad Vintage. Beyond the number of a person named Dunkan, passersby know nothing more about Bad Vintage, or its origins, or if they ever found their bassist.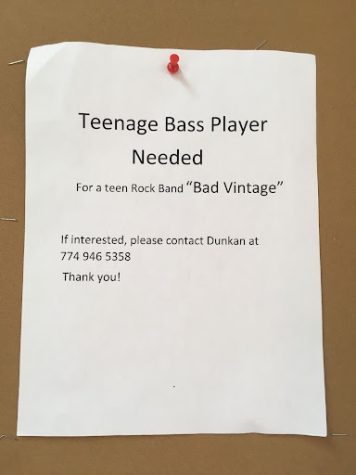 Intrigued by the unanswered questions, I contacted the number on the flyer and got in touch with the enigmatic Dunkan, the band's drummer, and asked him to tell me all about Bad Vintage and how they started out.
The Malave brothers, Dunkan, a sophomore at Tech, and Drake, his eighth-grade brother formed their band three years ago. A couple of months ago, Dunkan put up a flyer looking for a bassist. Since then, they have received a couple of texts, but nothing has panned out. Dunkan explained, "Bass players are hard to find at Tech; they aren't really the center of attention. As a high schooler, it's difficult to find other musicians that are specific to rock." However, their lack of a bass player hasn't prevented them from creating more music and sharing it with everyone on their YouTube channel, @Badvintage2913.
At Tech, music classes and events tend to be very symphonic, or classical, which hardly encourages the formation of rock bands. "I wish Tech had more opportunities for rock-oriented musicians, so we could have an outlet to play and find other students with similar interests," said Rhys Barbaro ('25). The lack of spaces where rock musicians can channel their creativity leads students like the Malave brothers to resort to flyers to find their fellow rock-and-roll peers.
Curious to hear more about the experience of being in rock bands at Tech, I reached out to some members of Purple Zenith, a more established band, fresh off their victory at the Tech Talent Show. I wanted to know how they achieved rock stardom at Tech, what comes next, and what advice they might have for up-and-coming bands such as Bad Vintage.
Purple Zenith consists of Logan Pepper (Fiorello H. LaGuardia '23) on lead vocals, Lucas Fruscianteo ('23) and Karsten Cole ('23) on guitar, Daven Cole ('25) on bass, and Gabriel Wolf ('23) on drums. A legitimate rock band with some serious talent, Purple Zenith began in Tech's jazz band, and is built with a mix of self-taught musicians, and some with formal training.
Once they built the band, the next steps were to practice, practice, practice, and land gigs. Purple Zenith rents studio space at Pirate Studios in Gowanus once a week. Wolf remarked that going to a school as demanding as Tech does not take away from Purple Zenith's ability to practice, even though APs and college applications have consumed a lot of time for the band members graduating this year.
Although Tech isn't exactly music-oriented, Purple Zenith has been a contender at the Tech Talent Show every year, and they take any opportunity to perform. Their advice for rising bands such as Bad Vintage is to get involved with music outside of school as "the easiest way to find people to play with." Collaboration with other bands, and playing clubs and events, will all help a small band bolster an underground band's credentials.
"Lots of bands want to be taken too seriously, but we are aware of age…we just want to have fun doing what we love," explained Gabriel Wolf ('23), Purple Zenith's drummer. The members have many other responsibilities and mutually agree that they aren't necessarily going to stay together after high school. However, they recognize the talent they have and believe that they can all go far with musical careers if they desire.
Purple Zenith is well aware that rock-and-roll dreams can live on far beyond Tech. In fact, they started off by covering bands like Living Colour, whose guitarist Vernon Reid coincidentally went to Tech, graduating in 1976. Wolf said, "Living Colour is amazing, they are some of the pioneers of hard rock." Influenced by Jimi Hendrix and other guitar greats, Reid picked up the guitar and formed his first band Liquid while at Tech. Reid later went on to win two Grammy awards for his guitar work in Living Colour.
The Malave brothers may take some inspiration from Vernon Reid's ride from Tech to the top of the charts. With more opportunities to perform, they could establish themselves like Purple Zenith, maybe even take a Tech Talent Show title themselves, and perhaps one day hit it big like Vernon Reid. But for now, Bad Vintage is just an underground band with a lot of talent and drive, looking to get their name out there.
As for Purple Zenith, the band is preparing to release an album sometime in June. They currently have a single out, entitled Awake, available on most music streaming platforms.
Leave a Comment