Tech's Transformation: Recycle Nation
From April 18-20, Brooklyn Tech's Sustainability Committee hosted its third annual Earth Week Initiative, engaging the Tech community through a variety of sustainability-themed activities: curated lessons, colored-theme days, guest speakers, trivia games in the cafeteria, and an art contest.
The initiative aimed to fix one of the biggest issues at the top of the committee's agenda: the lack of recycling within the school. Sustainability Coordinator Mr. William Schell said, "As of right now, we essentially know that we're not recycling that much at this school. If we are, it's very, very little compared to what we could do."
Although data show that the majority of students recycle, Schell suggested that Tech should tackle "food waste, typical classroom waste, and anything that is used by the school [the waste created from use] for maintenance purposes."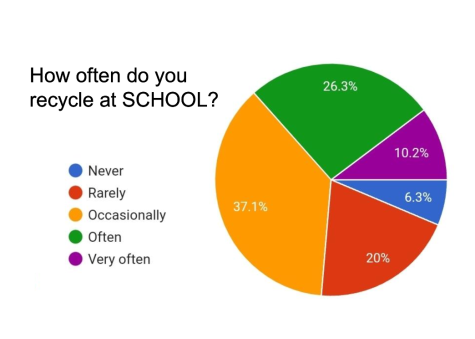 The committee also stressed the involvement of teachers to initiate change. "It's the teachers who teach us how to do things but sometimes there could be a role reversal there too and students can teach the teachers," said Schell.
The call for teachers to be more involved in sustainable practices is important as a recent student poll by the committee alarmingly indicated that only 4.9% of students believe that teachers encourage recycling.
To remedy this concern, students on the committee created lessons for teachers to present throughout the week.
"Obviously recycling and upcycling are great but the root is [students] not knowing what to do," said Maliha Mehjabin, a junior in the Social Science Research major and the Secretary of the Sustainability Committee, "We see all these compost bins in our cafeteria but we don't actually know how to recycle."
Mehjabin explained that this year the Sustainability Committee focused on ways to raise awareness. "Something as simple as wearing the same color can raise interest and encourage people to do things such as recycling, carbon-nitro, and environmentally friendly things."
Students wore coordinating colors throughout the week to bring attention to the initiative. On Tuesday, students wore blue in appreciation of clean water. The following day, students wore green for clean energy and development, and on Thursday, students wore red for social and environmental justice.
Additionally, on April 19, Tech hosted ZOOM sessions with guest speakers from six different organizations: Pratt Institute, GrowNYC, FutureMeetsPresent, Factory Farming Coalition, and New York Wolf Conservation Center. These Burst Seminars ran from third to eighth period for anyone eager to join discussions on a range of topics, including passive architecture, food waste, building emissions, factory farming, and North American wolves.
Mr. James Bacchi, an AP Biology teacher, joined a ZOOM session about factory farming and explained that he participated because "speaking with a specialist in a field live and asking questions is a good opportunity since we don't get that a lot of times at school."
Although some of the images depicted in that particular ZOOM forum were graphic, Bacchi thought it was "eye-opening" and necessary, as that is "the reality of where our food comes from."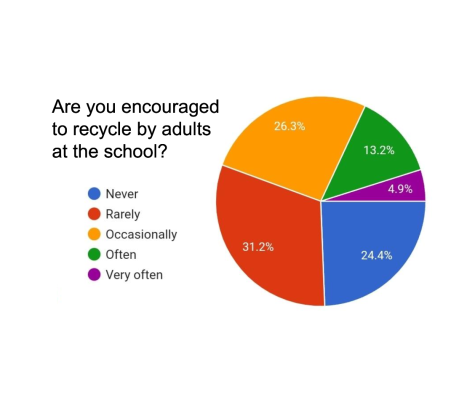 Beyond creating curated lessons and inviting guest speakers, the committee worked to increase creative participation in the initiative. Students had the opportunity to participate in trivia games and enter a sustainability-themed art contest.
Phoebe Athanasopoulos, a junior in the Industrial Design major and the Grand Winner of the art competition, said, "Art is very important because it could be used as a medium to express [her] feelings about the environment."
Although Schell observed impressive participation in Earth Week, the committee highlighted challenges with the initiative.
"Definitely [the size of the school] makes it harder," said Augus Li, a junior in the Law and Society major and member of the Sustainability Committee. "You have to reach a wider audience."
Schell took a slightly different view. "I don't think the scale of the school is the biggest obstacle that we face," Schell argued. "I think intrinsically, people want to do good but they need the opportunity to do good. One of my roles, as the Sustainability Coordinator is to make you unafraid to speak your voice and reach out to different stakeholders of the school so that we can make a difference here… as the notoriety of a Brooklyn Tech name goes with it, we can be a model of sustainability for large schools like this in the city."
Members of the committee use their personal experiences as motivation. "It was a personal thing for me because I was born in China where there's a lot of pollution," explained Li. "I really wanted to work against polluting our world because we only have one. It was something deep down inside of me and it was amplified when my living environment teacher, Mr. Schell, helped me into this position."
Members of the committee have already begun to work toward change, and they stress the importance of starting now rather than later.
Li continued, "Even though some people say climate change doesn't exist, [sustainability] is helping the world become a better place by improving the infrastructure we already have and the sciences behind it. It's going to be logically better if you work towards that step."
Schell emphasized the value of making change together: "We don't want to wait for things to change for us. We want to make tomorrow's future start today and we're engineers at Brooklyn Tech, so let's engineer that future and do it together."
Leave a Comment