Enchanting & Timeless: A Critic's Take on "Once Upon a Mattress"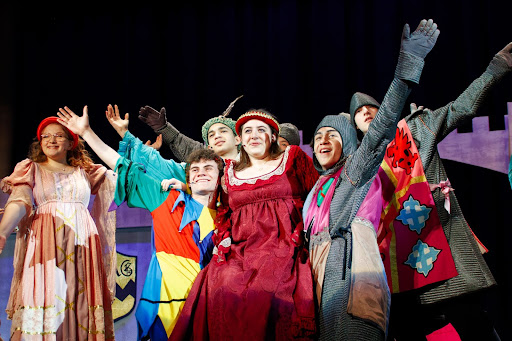 Once Upon A Mattress is an ironic, musical twist on the fairytale, The Princess and the Pea, set in a medieval kingdom ruled by Queen Aggravain (Suzan Koch '24) and her mute husband, King Sextimus the Silent (Arlo Neuwirth '24).
In an attempt to maintain control, the queen declares that any princess who wants to marry her son, Prince Dauntless (Thomas Hsin '24), must pass her test to gain approval. She also declares that until the prince is married, no one else may get married, which spells trouble for Lady Larken (Derin Senay '25) and Sir Harry (Matteo Feola '24) who are dating and scandalously expecting a baby soon. However, their luck changes when the untraditional Princess Winnifred (Mary Rousakis '24) instantly catches the prince's attention, despite not having a dainty, princess-like personality, and seeks to marry him.
The show was energetic and lively throughout, blending the various performance elements and technical contributions. "I've seen what's happening on the stage," said Mr. Velazquez, the director. "I'm impressed by the students on the stage, in the pit, [and] working the lights. I know what they're doing and I'm super proud of them. I'm so proud of the work everyone has put in."
The cast did a tremendous job of creating a whimsical and humorous feel to the show. Alongside their skilled performances and catchy vocals, the actors' dancing was also excellently choreographed.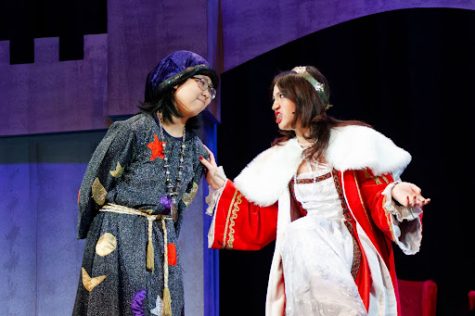 Koch's ability to fully embody Queen Aggravain's sassy and arrogant attitude was outstanding, and key in many comedic moments, marked by her easily triggered irritation. Her strong singing voice and confident strut on stage defined her character from the beginning.
Neuwirth's role was particularly unique, given that King Sextimus the Silent is unable to verbally communicate but still holds major importance to the plot. Regardless, Neuwirth was able to skillfully pantomime clear emotion and context, especially in comical moments by joyfully jumping up and down when able to effectively communicate.
Feola and Senay expressed the intimacy between Sir Harry and Lady Larken extremely well, notably when breaking out into songs like In A Little While, with its hopeful and touching melody. Both actors embodied their respective roles with great intensity as they navigated their emotional journey, both in love and at odds.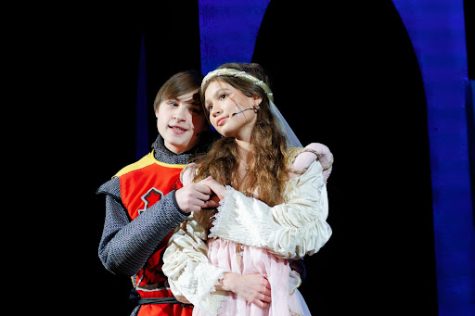 Hsin and Rousakis, in the roles of Prince Dauntless and Winnifred, were both very high-spirited and complemented each other well. Hsin's Prince Dauntless exuded an effortless, youthful joy, while Rousakis imbued Winnifred with a bubbly, even jumpy, personality. Together, the pair delivered a very charming relationship on stage.
The orchestra also played a major role in establishing the mood and controlling the pace, with blissful, lighthearted instrumentals that enlivened each scene and maintained a distinctive tone overall.
Visually stunning costumes, designed by Majka Kiely-Miller ('23), were one of the standout features of the production. Each costume perfectly captured the fairytale feel of the show with vibrant colors and intricate, whimsical patterns.
Mr. Velazquez noted, "Usually you don't have a lot of [15th century] pieces in your house, so there's renting we do for some of that, but we add and embellish and Majka is just phenomenal with respects to costumes and making sure that everything is fitted and adding pieces and our own little touch."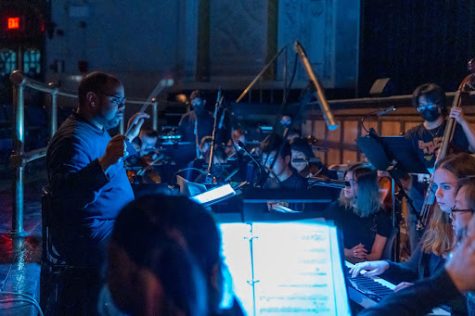 As the curtains first opened, much of the cast was lined up across the stage, each with a unique color but sticking to a common period style. The Queen's costume set her apart with big pearls, a big, flowy red and white dress, and a fur collar. The Jester (Brandon Slewlett '25) also donned a strikingly bright and colorful costume, with bells jangling from each side of his jaunty jester hat.
Rousakis went through multiple costume changes given Winnifred's prominent role throughout the show. Her red and green dresses were decidedly royal, contrasting from the other princesses to assure that she stood out. When she slept on the mattress stack at the end, Winnifred switched to an all-white nightgown. Although simple, it was a departure that accentuated the defining scene of the musical.
Mr. Fisher designed the unique and eye-catching set, a big castle with 15th-century flourishes, like imposing gray battlements. There was a staircase on each side, accompanied by large windows framing a big space for the center of attention: a striking red throne of the Queen.
The production's entire aesthetic succeeded in articulating a clear vision. "It's amazing how the things we talk about and design and come up with in our heads become real, on the stage," said Mr. Velazquez.
Other technical elements, including sound effects designed by Dorian Arana Castro '24 and Mr. Reich, and lighting designed by Mr. McIntyre, were all seamlessly integrated into the diverse visual and musical atmosphere of the show, creating a richly rewarding experience for the audience.
"It was a good time preparing for this, and that's what translates into the show, onto the stage, and that's what is to be felt by the audience," noted Mr. Velazquez. "It's a really fun show."
Leave a Comment