Reaching New Heights: Ela Sen's Snowboarding Journey
While most of Tech's students spent the first week of April stressing over homework and tests, freshman Ela Sen had another challenge to face: national snowboarding championships.
Sen competed in the USASA National Championships, participating in events among some of the best snowboarders in the country. The USASA, or The United States of America Snowboard and Freeski Association, is one of the first steps for snowboarders hoping to reach the Olympics. Snowboarders and skiers from all across the country come to Copper Mountain in Summit County, Colorado to compete in these annual championships.
The main events Sen competes in are slalom and giant slalom, which involve racing through sets of gates on a downhill course. The biggest challenge in slalom is making sharp turns, as turning on time can make or break your performance. "Especially racing with the board I have now, when you do a turn, you almost lay down on the snow," said Sen.
Sen placed 26th in her age group for giant slalom and 9th for slalom in just her second national competition. While she was extremely proud with her performance, the experience is far more important to her. "I'm not stressed about getting good results…I snowboard because I love the sport."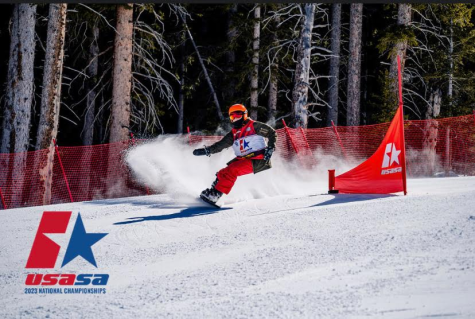 Sen's passion for snowboarding began around the age of nine, after watching the sport in the 2018 Winter Olympics. "I was watching the halfpipe and I said, 'I want to do that.' The next year, I went and did it. I loved it, and I've been doing it ever since."
Though her dream started out with the halfpipe, Sen eventually decided to stick with slalom. "I like the way that the turns feel, and how you're always on an edge."
When it comes to practicing, living in New York is a challenge. Sen spends every weekend trekking to Camelback Mountain in the Pocono Mountains of Pennsylvania, a trip that can take around two hours. Take into account two days of driving there and back, and that's about eight hours of weekend time dedicated to commuting. She aims to spend at least five hours on the slopes each day. "The drive takes away most of the time I have for schoolwork or other activities… [it's] just a big commitment of time and energy."
Many of the people Sen competes against live closer to mountains, allowing them to get more practice in. However, Sen makes up for the disadvantage that the distance creates in any way she can. During school vacations, she spends every day practicing. "I already do as much as I can while training just because I want to get better. Outside of training, I do watch videos on racing and I've started [going to] a gym to improve during the offseason."
As Sen moves on to the 15-16 year old age group, more opportunities to race will open up, such as open class races with no restrictions on age and the Snowboarding Junior World Championships. The world championships are organized by the governing body in snowboarding, the International Ski Federation, and are another vital step in a snowboarder's journey to the Olympics. Sen intends to keep competing and improving, but does not plan on making a career out of snowboarding. "As much as I love to snowboard and compete, I wouldn't give up all my time to it and give up on any other career I want."
No matter which path she takes, Sen believes that the connections she has made and the passion she has fostered through snowboarding are extremely valuable. "Just to have fun with all of your friends on your team, go to different mountains with different trails, experience all that you can and do really well….it feels amazing."
Leave a Comment