The Implications of Decreasing Class Sizes at Tech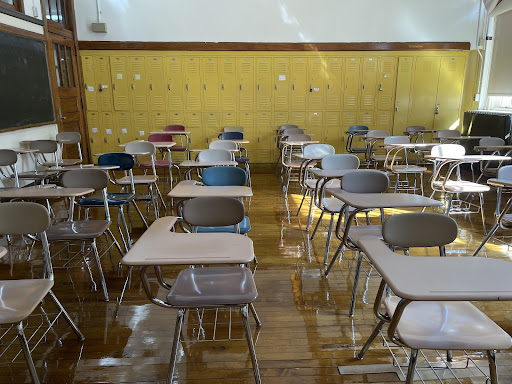 In September of 2022, Governor Kathy Hochul signed legislation that will initiate a plan to gradually decrease class sizes for New York City public schools. Class sizes across the city are expected to be lowered substantially over the next five years until 2028. In high schools, regular classes will eventually be capped at 25 students, while performing arts and physical education classes will be capped at 40 students.
Mayor Eric Adams was adamant against passing the legislation, so the changes were delayed until the 2023-24 school year. Adams expressed concern for schools' financial capacity to afford the bill's provisions, especially taking into consideration recent and predicted future cuts to education funding.
However, after fighting for reduced class size for decades, many state legislators and the teachers union rejoiced at the signed legislation. In an interview with Politico, the president of the United Federation of Teachers, Michael Mulgrew said, "For decades, New York City parents and teachers have been fighting for lower class sizes. We now have something to celebrate."
Research into the effects of transitioning to smaller class sizes supports the legislation, with much evidence that smaller class sizes are beneficial overall for both students and teachers. Smaller classes have been shown to boost student test scores, increase attendance rates, and improve classroom engagement. They have been shown to improve learning without having a detrimental long-term effect on the quality of teachers' instruction.
Ms. Joanna Bueckert, an English teacher, referred to the legislation as a "dream" for New York City schools. "The amount of students we have is the only drawback of working here," Bueckert explained. "It's so overwhelming the amount of papers you get…If I had smaller class sizes, it would just be so much easier to work individually with each student."
Unlike other high schools, Brooklyn Tech does not admit students using a limited grade size and a waiting list but rather by accepting a class of all applicants who scored above a certain cutoff score for the SHSAT exam. As a result, the grade size fluctuates each year and has caused the school population to noticeably increase over the years. Brooklyn Tech's size is a draw for many students, but there have also been concerns about overcrowding as a result. For example, the school library usually reaches its maximum admittance in the first few minutes of each period, and this year's club fair had to be shut down early because of the unsafe rush of students.
In the face of concerns about the growth of the school population, Principal David Newman acknowledged, "I have seen [the student population] steadily increase, but everything else has increased: more teachers, more social workers, more guidance counselors, more administrators, more of everything…I think we're at our max, and the city, I think, agrees with me on that."
Many students do appreciate the large scale of the student population at Tech. "I feel like one of the draws to this school is the big class size. It's not necessarily a negative," said Oliver Zanier, a senior in the Aerospace Engineering major. He added, "I've gotten to know so many cool and uniquely interesting people that I may never have met in any other place."
Newman explained that Tech is not, in reality, as overcrowded or unprepared for this decision as it may seem because there are classrooms that are unoccupied throughout the school day and teachers may follow early or late schedules.
However, lowering class sizes will greatly increase the number of teachers that need to be hired, and may have detrimental costs financially and practically on schools across the city. Bueckert acknowledged, "I just don't know logistically how the city and the whole state is going to make it happen. There's already a teacher shortage in some key fields, so there's a ripple effect that's going to happen."
Some students also questioned the changes and the extent to which they would be necessary or significant. Zanier said, "I almost never felt that the size of the class was a serious detriment to my learning…The class sizes we have now are, in my opinion, pretty good."
There are, evidently, both significant benefits and drawbacks to this legislation, and it will require reevaluating fundamental aspects of the Tech community.
Leave a Comment