Ms. Martini's Support Groups for All
A peek into room 6S7 reveals couches piled with sequined pillows, desks with calming sensory toys, and walls plastered with a mosaic of watercolor affirmations. Two knocks, and you may be greeted by Ms. Christina Martini, the school social worker.
Although Martini is the social worker for the junior class, all students are welcomed at her office. "I'm here to support anybody who wants to talk to an adult, I'm available," she added.
Martini began her work with students as a high school English teacher in 2004. During that time, she spent her lunch periods talking to many of her students about their personal struggles. As an educator, she explained that she had a strong desire to help them, but "felt ill-equipped to help them with those issues" without adequate training.
This pushed Martini to apply to a part-time social work program at NYU, allowing her to work full time while simultaneously training to become a social worker.
She was interested in working at Tech as her grandfather, an alumnus, would share stories with her of how he learned woodworking and mechanics at the school. She related to students based on her own experience being "very focused on school in high school" especially when it came to "putting pressure" on herself.
Martini wants students to advocate better for themselves and become aware of the counseling and group resources available to support them. When she began her work at Tech four years ago, she observed that "most students didn't even know there was a social worker," and that there were too few social workers for the large student population. Today, there is one social worker designated for each grade, and there is more general awareness of these expanded resources, according to Martini's observation of students entering her office.
As a crisis response worker, she described how "a crisis can be anything; it can be a student having a bad day, it can be a student experiencing anxiety, maybe something traumatic has gone on at home."
She explained that her biggest goal is to take a more active approach towards helping Tech students. "What I would like to do more in the school is to be more present in a proactive way before it gets to a crisis, to create a more warm and supportive vibe in school because Tech can be a very intense environment emotionally."
Aside from individual counseling, Martini leads support groups with students during different lunch periods. These sessions are designed to be accessible and open to all students, groups are focused on dealing with specific issues, like grief, or more general concerns, including academic stress.
Martini's support groups were inspired by her weekly virtual support group during quarantine. "It was a social space but we would also talk about skills and ways to cope with what is going on with Covid," she said.
These groups continued last year in-person after school, but this year they have expanded to regular lunch period sessions with the help of "junior peer-leaders" that Ms. Orli Kleiner, a teacher in the social studies department, introduced to Martini. These peer leaders help brainstorm and plan the activities for these sessions, which they co-facilitate.
Martini notes that there are additional stresses with COVID as feelings of isolation among students persist despite the end to physical isolation. She said, "Lots of students come in going through a lot with feeling alone, and it definitely has to do with the pandemic and not having a real transition," in reference to current freshmen and sophomores.
On top of personal losses during the pandemic, the collective trauma of enduring a global pandemic that introduced a new normal that many students have struggled to adjust to makes mental health resources like support groups vital.
Martini encourages students to drop in whenever they are available. She said, "Fifth, sixth, eighth, and ninth period support groups are on Mondays, seventh is on Wednesdays. I also have a drop-in art therapy group in the library called 'shared support' on Wednesday during eighth period."
Having observed a change with more students utilizing her support resources, she hopes to amplify other resources in Tech as well, with "Ms. Ford specializing in mindfulness, Ms. Barlow with a gender support group, Ms. Ramona with different groups, including a transgender support group, Ms. Jerry with groups for ninth graders transitioning back to schools, and Children's Village doing sexual health and individual counseling."
Martini and the guidance department's greatest hope is for students to feel supported in their four years at Tech; whether that takes the form of student groups, art therapy, or something else. There is always support available at 6S7, next to pet paintings and a Pusheen plush.
Leave a Comment
About the Contributor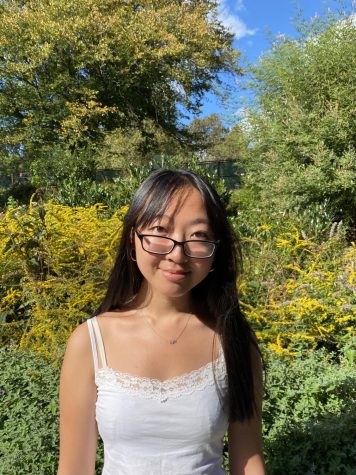 Yan Zhen Zhu, Opinions Editor
Yan Zhen Zhu (she/her) is a co-editor for Opinions. To Yan, journalism represents the pursuit of truth....