Brooklyn Tech's Art As Protest
In the fall of 2022, artists and writers from Horizons, Brooklyn Tech's official literary magazine, came together and created a mural in the center lobby. It features complex drawings about social issues such as bullying, school stress, and beauty standards.
Ms. Goodrum, the advisor of Horizons, was the leader of this project. On November 8, 2022, she attended a workshop at the Metropolitan Museum of Art and was inspired after seeing the opening speaker, Tatyana Fazlalizadeh, showcase her "Art As Protest" murals that she creates all over the nation.
"She creates these huge murals of a message and an image that she wants people to think about as they walk by," Goodrum explained. She took pictures of Fazlalizadeh's murals and brought them to the next Horizons meeting.
At the meeting, she explained, "I want you to create a public message. I want you to think about something you want to say big and loud to the Brooklyn Technical High School community." She envisioned the project as a collaborative effort, with visual artists and writers working together to create powerful messages for the Brooklyn Tech community.
Lauren Wong ('26), a visual artist on the mural, focused on academic pressure. Her picture depicts a clown behind bars, surrounded by negative affirmations, textbooks, pencils, and other educational materials.
Wong wanted to convey the idea that "people define themselves too much over their grades." As a result, she believes that schools do not realize the detrimental effects of students agonizing over homework and tests.
To Wong, the most challenging part of the project was "making sure it conveyed the right message." She didn't want people to misinterpret her drawing. She wanted students to be able to relate, and for faculty to realize their harmful actions.
Samantha Valincius ('26) and Lola Granger ('26) worked together on "Jokes Are Only Funny When Both People Are Laughing." Valincius explained that the title represented their experiences of "being at the forefront [sic] of really uncomfortable jokes."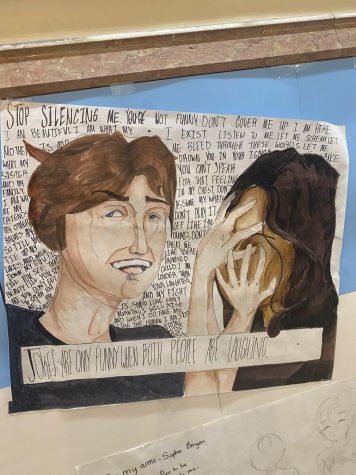 In Valincius's experiences, people joke far too often about trauma and serious topics like misogyny and racism, creating uncomfortable situations for many students. With their art, Valincius and Granger hoped to show people how to walk away from an uncomfortable situation, as well as teach students to reevaluate their own actions when necessary.
"Nobody wants to be the bully in the picture, so we should all just step back and think about our words," Granger said.
While Valincius was sketching out a draft to be finalized at home, Granger was writing slogans and affirmations that Valincius was to incorporate into the drawing.
"For a project like this, it makes sense for art to be at the forefront, but I feel that writing should be another loud and prominent voice in the school," Granger reflected. "Most people look to art when they think of exhibits and museums, but writing can do that, too, if we think outside the box."
The process of the mural was quick, but its message is a long-lasting, powerful stance against hatred and negativity. Goodrum continuously expressed how proud she was as the young minds of Horizons brought together their artistic passions and created Brooklyn Tech's version of "Art As Protest".
Leave a Comment