Girls Varsity Soccer Brings Home Long-Awaited City Championship
As the 2022 PSAL soccer season came to a close, Brooklyn Tech's girls varsity team closed out the season with a city championship title. The triumph was especially sweet for the seniors, as the final at Randall's Island was their last chance to bring home a championship that had previously eluded them.
Captain Emmy Paletz ('23) said, "I think all of the seniors knew that…we had to win this year." They were part of a team that lost to Beacon in the 2019 championship game after an undefeated campaign, missed out on a crucial season of development in 2020 due to COVID-19, and experienced another crushing loss in the championship game to Hunter College after another undefeated regular season in 2021. Despite utter dominance in the regular season that often left the players unchallenged, the title continued to evade them. However, devastating championship losses did not deter the players, instead they added to their hunger for victory.
Nicole Afraymovich ('23) explained, "We wanted to win at all costs. And I think that [the Hunter game] definitely helped us, because that was the fuel to our fire."
Reflecting on their playoff performance during the 2021 season gave the team a chance to develop and redeem themselves this year. Paletz explained, "Last year, we were really cocky as a team because, in the regular season, we were undefeated, and then we weren't that prepared to play Hunter."
The team used their off-season productively, with an intensive preseason training camp to learn from mistakes and become more well-rounded on the pitch. "[It] was really our first year as a solid team. And we figured out our flaws and worked on those in six months, basically," added Captain Macy Fuhr ('23).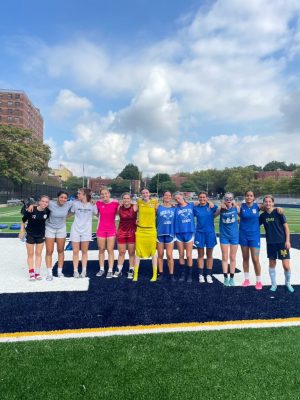 Early season scrimmages against teams from both New York City and Long Island played a big part in preparing the team for the playoffs. "We set up non league games against harder competition just to get more competition, because that's kind of what we lacked last year," explained Captain Charlotte Connelly ('23).
By the time the 2022 season neared its close, the seniors found themselves in a position that was all too familiar, undefeated and in the championship game. Their opponent was also familiar; they were set for a second consecutive championship showdown with Hunter. The opportunity for the rematch only added to the excitement of the game. Afraymovich elaborated, "We have a competitive relationship with Hunter, and I really wanted it, we all did. We could see it on the field. We were just fighting. We really wanted to get revenge."
The heartbreak from 2021 was avenged as Tech triumphantly defeated Hunter 3-1. The first half of the match was scoreless and uncertain, but the Engineers were able to gain the upper hand in the second half. "The first half was pretty scary, especially the beginning. And then when [Goalkeeper Nikki Bidun] saved the [penalty kick], that's kind of when we knew maybe this would go our way" recounted Fuhr.
The team's determination was an unstoppable force that pushed them to success. "We played through injuries, and we experienced some pain, and I thought that spirit, that gritty spirit and that competitive spirit carried us through," said Afraymovich.
Aside from the anticipation and adrenaline, the finals came with added stress and high expectations for the team's leaders. Connelly explained, "I felt pressure to perform and have the team perform and have a good playing style and attitude [towards] the team."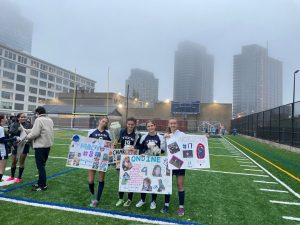 Fuhr also felt additional responsibility as one of the team's leaders. She explained, "I feel like it's a big responsibility. When I was a freshman, the older upper classes and the captains were mentors to me, so I feel responsible to be the same to [the freshmen] this year."
Despite the pressure, the captains handled the transition to roles with more responsibility gracefully. Paletz explained, "Me and all the other captains, we organized…team dinners, team meetings…This year we knew that we really wanted to step it up and make sure the team was organized."
Passing along expertise to younger players allowed seniors to use their years of experience on the field in new ways. "A lot of our seniors are superstars on the field. Lots of goal scoring and great defense…so they definitely help out the underclassmen and each other with everything," said Bidun.
As their high school soccer careers end, the senior Engineers can rest assured knowing that their team is in good hands. "With all the younger talent, they really stepped up in that final game, and even just in the season, they really stepped up in practices, games, playoffs, regular season and playoffs, the younger generation stepped up," said Afraymovich.
Though it may be a bittersweet farewell for the seniors, their legacy will remain for future generations to uphold. "I'm excited where the program could go because I feel like we've really been set up, and this win, it will be big, especially next season," said Connelly of this year's title victory.
Leave a Comment