Bathroom Fire Leaves Tech Out in the Cold
At 1:20 PM on December 8th, the fire alarms blared through the halls of Brooklyn Tech. Students and teachers were confused as an announcement instructed them to follow the procedure for an outdoor evacuation, just two periods after a scheduled fire drill.
As the building was evacuated, masses of students began forming outside, screaming and pointing at smoke visible through the windows of the building. Rumors almost immediately began spreading about the source of the fire, ranging from a vending machine burning to an elevator catching fire.
Mr. Quincy Holmer, an AP Computer Science teacher, confirmed at 1:57 PM that he had "still not received any information" about a potential fire. Holmer explained, "I believe there has been some misinformation about where the fire started… and it seems as though there was a real fire, but I can not verify that."
Following the infamous bomb threat in December of 2019, Holmer attested that there was "a call to improve communication among the staff so we would know what to do in times of an emergency." He added, "I do not know exactly how the administration is supposed to contact teachers," and could not point to any improvement in the way the situation was handled.
Principal David Newman emphasized that safety will always take priority over communication. "I'm not going to apologize for any communication issues when I'm trying to get everyone out safely. I know everybody wants to know everything at all times, but the prime focus is getting everyone out."
Teachers surrounded groups of students to prevent them from leaving the area, but had no indication as to when students might be able to reenter the school, if at all.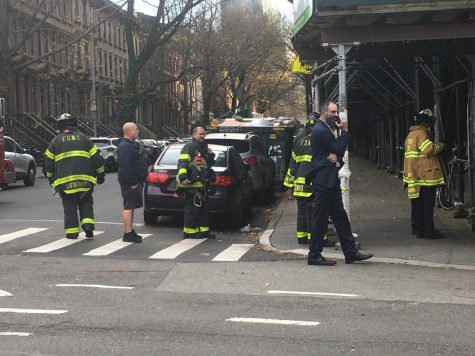 Several minutes later, at 2:03 PM, the first form of official communication came in the form of an email directly from Newman, titled 'Emergency Evacuation'. It informed students that there was a "small contained fire" and that "everyone is safe."
By then, photos and accounts of the incident were all over social media. Images of firefighters rushing into the building, hallways full of smoke, and even a video of a student walking directly towards the fire filled the feeds of Tech students. Fake images were also shared of a fire in a bathroom that was not from Tech.
Besides the images on social media and word of mouth, the only information students had was what they had witnessed themselves. Aislinn Shrestha ('23) explained, " I was walking down the hallway on the south side of the second floor, and was walking by the fire until one of the teachers told [her] to get out."
Henry Lombardi ('23) recalled believing that "the fire alarm was real because I had walked through smoke on the third floor on the southwest side, and everyone around me was freaking out about the smell [of smoke]."
Maryann Leshaj ('23) commented that "It wasn't organized, but how organized can it be at this school? It was mostly the students, the teachers don't have that much control over it."
Nashyl Martinez ('23) was confused with the school's decision to not share what was happening with students and teachers. She explained, "I think if people knew it was a real fire, letting students know so they could take their stuff and prepare would help. I think people would be more attentive."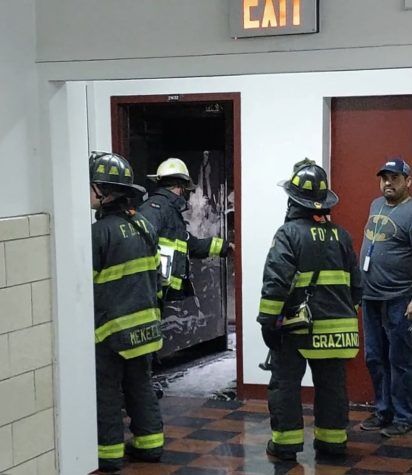 Communication from the school did not improve as the afternoon went on. A follow-up email from Newman at 3:23 PM stated that "all after school activities [were to] take place." An email from Coordinator of Student Activities Ms. Massie at 3:42 PM directly contradicted Newman's message, stating that "all Clubs and afterschool activities have been canceled today… except the PSAL and the Band Concert Rehearsal." Students were left confused, wondering whether they were able to go home for the day or not.
Once students were able to reenter the building, the second floor remained closed during 10th period, and all classes on the floor were moved to the auditorium. Students and staff were told that they would not be able to retrieve possessions left behind on the second floor until Friday.
It remains unclear exactly how the fire was started. Alex Korolev ('23) mused, "I'm very surprised that we had a fire alarm and an actual fire on the same day. I don't know if that's a coincidence–it seems correlated."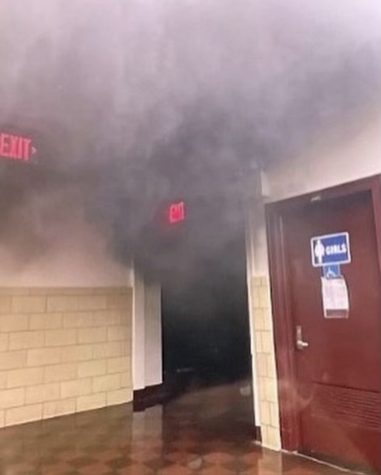 Pictures taken by students appear to show that the fire originated in 2W32, a gender-neutral bathroom. It was quickly extinguished by the FDNY before it could spread to the rest of the building, and Newman reported that "students were back in classrooms by 2:50 PM."
While there is still no confirmation about what initially started the fire, Newman assured that "it is not only being investigated internally, but more importantly by the FDNY."
He added, "I know the fire was inside a garbage can. How it started–whether there was an accelerant or paper stuffed in there–I don't know the answer to that."
While no one was hurt in the incident, the level of communication from the administration was concerning to students, parents, and teachers alike. Lombardi concluded, "It is surprising and worrying that the administration still does not know how to communicate with its thousands of students and hundreds of teachers in the event of an emergency."
Leave a Comment