What's On Your Playlist This Year, Tech?
In 2022, we experienced a wave of iconic album releases. A poll conducted by The Survey revealed that students from Brooklyn Tech most enjoyed new albums from Kendrick Lamar, Beyoncé, Blackpink, BTS, Harry Styles, The Weeknd, Bad Bunny, Omar Apollo, and Steve Lacy.
When provided with the top four choices of Lamar's Mr. Morale & The Big Steppers, Beyoncé's Renaissance, Styles' Harry's House, and Bad Bunny's Un Verano Sin Ti, 46% of 80 respondents selected Lamar's long-awaited album as their favorite of the year.
Mr. Morale & The Big Steppers captures Lamar's upbringing, beliefs, insecurities, vulnerabilities, and present-day life. His musical storytelling and diverse stylistic choices distinguish this album from his past releases. Each song on the record represents the person he has become and the lessons he has learned.
Some notable examples are "Auntie Diaries," where Lamar talks about his affection, curiosity, and growing acceptance for his transgender relative, and "We Cry Together," where a couple battles the ups and downs of married life and gender roles.
WHAT FANS ARE LISTENING TO…
Jediah Thomas ('23), Tech's SGO President, loved Un Verano Sin Ti and Steve Lacy's Gemini Rights. However, his favorite album of the year was Wasteland by R&B singer Brent Faiyaz.
Wasteland takes its listeners through a story of a toxic romance; its highs and its repercussions. Thomas referred to Faiyaz as either "crazy" or "a genius" because of his artistic articulation on the subject of love.
"If this is a made up story, his foresight is wild. If it actually happened, then I hope he seeks help," Thomas concluded.
Renaissance did not disappoint with its groovy songs about love, self-expression, Black women, and those in the LGBTQ+ community. It is Beyoncé's seventh studio album, weaving together influences from dance, disco, pop, R&B, techno, psychedelic soul, Afrobeats, and funk music.
Abeera Riaz ('23), loved the "upbeat tempo and dance floor feel of the songs." Her favorite song on the album was "VIRGO'S GROOVE," because of the catchy instrumentals.
"Beyoncé sounds amazing as always," she added with a smile.
Orchestra teacher Mr. Tasopoulos enjoyed Brandi Carlile's In the Canyon Haze, which is an album of re-recordings from her 2021 album, In These Silent Days.
"Her album is amazing and she's an excellent musician. It is also very personal," Tasopoulos explained, when asked why he enjoyed the album so much.
"The song that makes me cry every time is 'Right On Time.' She hits this particularly long high note that just hits me," he said emotionally.
Matthieu de Robles ('23) said his favorite album release was the Broadway recording of SIX: a modern pop musical from the perspective of Henry VIII's ex-wives. Originally released in 2018, the Broadway recording was released this year in May.
"It brought so much more to [SIX]. So, you had more parts of the musical recording, including speaking parts and more songs such as The Mega SIX, the final song that is played during the standing ovation," de Robles said when comparing the cast recording (2018) to this year's live opening night recording.
Leave a Comment
About the Contributor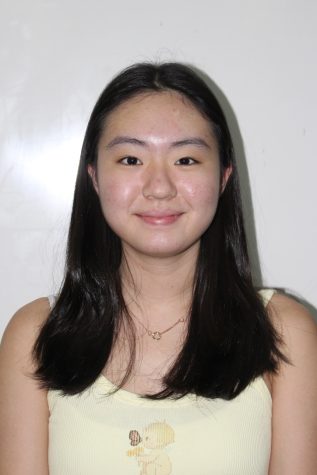 Audrey Yoo, Arts and Entertainment Editor
Audrey Yoo (she/her) is the Arts and Entertainment editor for the 2022-23 school year. She is a senior...