Tech Football Team Debuts New Field at Homecoming Game
In front of a large and energetic crowd at Brooklyn Tech's newly renovated football field, the school's varsity football team took to the field for the first time this fall in a homecoming game versus Bayside High School. On a warm autumn day, the Engineers were defeated 28-8, despite an attempted late comeback.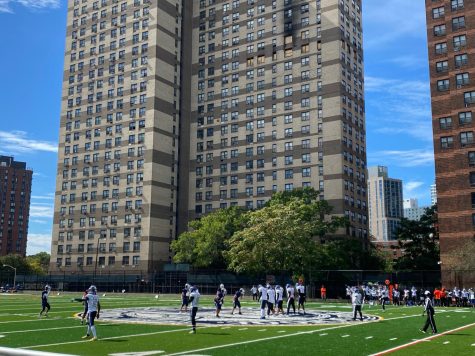 After falling down 22-0, the Engineers ended the first half on a high note with a drive-killing interception by Diego Granville ('24) to prevent further damage heading into halftime. In the second half, Bayside tacked on another touchdown to extend their lead to 28-0.
After having little success against a disciplined Bayside defense, Quarterback Jackson Janes ('24) responded by leading the Engineers down the field and rushing into the endzone to cut into Bayside's lead, making the score 28-8 after a successful 2-point conversion.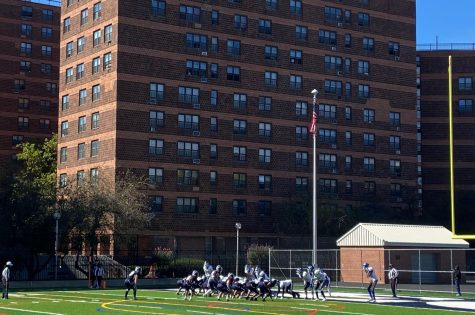 With an onside kick recovery, Tech regained possession with prime field possession, but squandered the opportunity to draw closer. Bayside's defense was able to stop the Tech offense from tightening the score and put the finishing touches on a resounding 28-8 victory.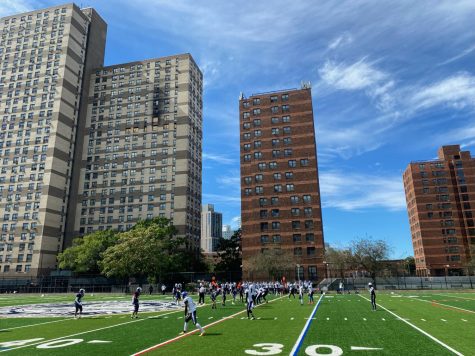 Despite the loss, players were very happy with the team's energy as a whole. Hassan Osman ('25) applauded his teammates' effort and added that "the team's courage never gave out and we played every snap with our hearts." Tahir Osman ('25), who recovered the onside kick in the 4th quarter, echoed that same point, adding that "I never stopped hustling, and there was never a point where I gave up or lost motivation."
Head Coach Brian Pugh lauded the support that fans showed and added that it was "incredible" to play on the new field. Pugh was proud of his team's second half effort, but recognized that they had much to improve on, namely being sharper on offense. Janes agreed, explaining that "[the team's] plays and gameplan are good," but that "[they] just need to work on executing properly at every position."
Pugh has been drilling into the players' minds to "be the hammer and not the nail" and "the aggressor and not the retaliator". Numerous players have felt that the team has not matched the physicality of their opponents, hampering their success.
The Engineers will be back in action this Friday, October 14th in Staten Island to take on Franklin D. Roosevelt High school, and will be back at home October 26th to face Curtis High School.
Leave a Comment
About the Contributor
Jacob Tobman, Sports Editor
Jacob Tobman (he/him) is a Co-Editor of Sports. Joining The Survey was a no-brainer for him as he's always...