Review of 'You're a Good Man Charlie Brown'
Brooklyn Tech students piled into the auditorium this past March to joyfully relive their childhood memories during the recent musical performance of You're a Good Man Charlie Brown. This production included two separate casts: Jacob Saeli ('22) in the role of Charlie Brown on the Thursday and Saturday performances and Thomas Hsin ('24) on Friday and Sunday.
By providing the audience with a dose of nostalgia and acknowledging the lack of self-confidence many students face, You're a Good Man Charlie Brown gave hope to those who may not be a "master" of anything. Especially at a school filled with overachievers, it showed that one doesn't need special accomplishments to be loved.  Director Mr. Velasquez described his vision for bringing out people's "inner child" and "inviting nostalgia" as a form of comfort and predictability. Mr. Velasquez highlighted Melissa Kirsh's article on nostalgia, where she described the rise in "pop culture that feels homelike, that's reliably soothing and predictable, in a world where so much is not." Mr. Velasquez added, "Charlie Brown does just that — it allows the audience to return to childhood and appreciate the joy in little wonders."
The musical was a "slice of life" chronicling Charlie Brown's childhood, with the journey to maturity as a prominent theme. In one scene, Kayla Johnson ('23) played a dancing blanket impressively with no apparent way of seeing out of the costume. Her role represented the fixation Linus, portrayed by Owen Bassett ('23), had with holding on to the comfort of childhood in the form of the blanket. However, Johnson's independent movement and separation from Linus, unlike the traditional portrayal of Linus in the cartoon clutching his blanket, represented the importance of moving beyond immaturity and accepting the independence that comes with adolescence.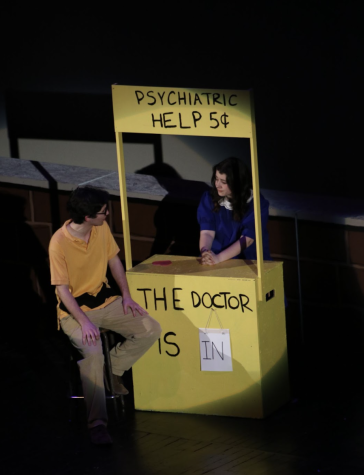 The costumes and set design impeccably mirrored the themes of the musical, with whimsical and playful artifacts of childhood infused with darker, more serious underlying messages. Oversized pencils and a booth featuring "psychological help," complete with an "in" and "out" sign that changed based on the scene, showcasing the incredible attention to detail and effort that was put into production design. English teacher Ms. Goodrum was in charge of creating and coordinating the props for the production.
Playing children as high schoolers in a musical production is a difficult task, but the cast of You're a Good Man Charlie Brown handled the challenge skillfully. Marianna Rousakis ('24) was able to bring out a tender side of Lucy that is often unexplored in all her older-sibling brashness. Saeli artfully portrayed Charlie Brown's desperation to shed his awkwardness. Unlike typical casts featuring adult and teenage characters, where "Uta Hagen's questions" are employed to gain a deeper understanding of the characters being played, Saeli said the cast members received laserdiscs of the You're a Good Man Charlie Brown cartoon to model their characters on.
Echoing similar sentiments about the previous performance of For Heaven's Sake this past January, actors noted the challenges of a short time between casting and production. Cassius Brook-Dempsey ('23), who played Pigpen, described the difficulty in juggling baseball and the musical: "It was difficult psychologically playing baseball for a week and then coming in for musical practice". Mr. Trombetta, the Assistant Principal of Music, expressed his admiration of the cast for "performing at a professional level" with rehearsals limited to weekends and after school. Mr. Trombetta also mentioned the "strong support network" theater productions at Brooklyn Tech have, with funds coming from the Alumni Foundation, though productions are largely self-funded from ticket and t-shirt sales.
Saeli described the importance of carrying on the Brooklyn Tech theater traditions that he had experienced in his years as an underclassman, which featured an atypically large number of freshmen and sophomores: "Getting flowers for all of the staff who helped out with the performance was a group effort this year." Still, he mentioned that many of these rituals would have been lost if not for the older members of the cast who had been involved in performances before the pandemic. Both Brook-Dempsey and Saeli expressed excitement about the new members of the cast being able to gain invaluable stage experience and hopefully spend many more years with the Brooklyn Tech theater company.
Leaving the auditorium after the final curtain, I couldn't help but relate the Peanuts children's experiences as my senior classmates and I prepare to graduate in June — embarking on our own journey towards adulthood. Charlie Brown's sadness, Linus' unwillingness to move on, and Lucy's frustrations are all-natural responses as we come of age. You're a Good Man Charlie Brown put the message of overcoming this fear in the form of a fantastically designed and thoroughly fun performance.