Brooklyn Tech Falls Short on Recycling
Brooklyn Tech is falling short of its goal to increase recycling. As Principal Newman recently admitted, "We do recycle, but there are many gaps in our process."
Shortcomings in the building's recycling system confirm the suspicions of many students and staff. "I do not think Brooklyn Tech recycles because every type of trash is in the same bin," LIU Advanced Health Major Alex Kim ('23) said.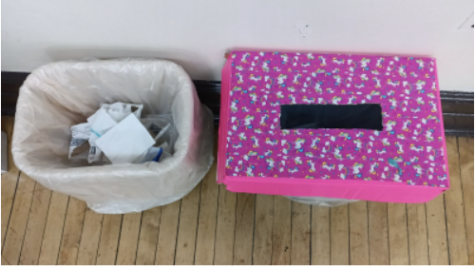 Mr. Schell, who is an environmental science teacher and the Sustainability Director of the school, agreed. He elaborated, "Since it is tough for the custodial staff to sort the trash out, I think that our trash is not recycled."
Jennifer Kline, the senior manager of the school's unit of the New York City Bureau of Recycling and Sustainability, said that even though the sorting machines are able to sort a lot of trash from recyclable materials, there is a limit to how contaminated a bin can be. "If students are throwing different types of trash in the same bin, then it will probably go to trash, as the custodian engineers and the sanitation workers will determine that it is a bag of trash," Kline stated.
This means that if students are not separating their trash, there is a high probability that the trash will not be recycled. Camila Guzman, the outreach coordinator of Zero Waste Schools, stated, "The custodial staff's role is to separate the waste streams on the curb. This means taking the bags from the bins and putting them on the curb depending on what waste stream it is. Sanitation's role is to pick up the separate waste streams into the appropriate truck so they go to their respective locations. So, when a bag is heavily contaminated because no sorting occurred at the source, custodians decide to put it in the 'landfill' waste stream as it is not recyclable and sanitation will not pick it up with recycling."
This means that if students are not sorting their trash, then it is highly unlikely that the trash in the recycling bins will be recycled.
Mr. Schell believes that effective recycling is possible as he thinks "recycling is built into the city budget," but that everyone has to be on the "same page."
In brainstorming solutions, Mr. Schell said, "We could dedicate a portion of freshman and sophomore advisories for educating people about recycling. We can have students involved with helping where trash goes."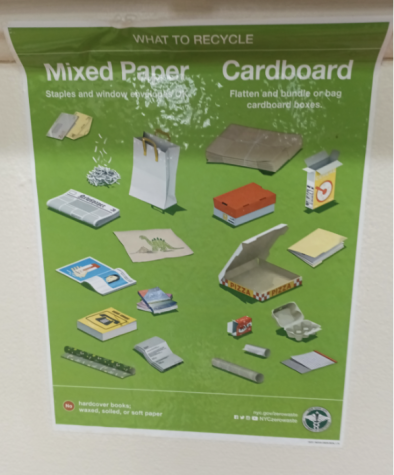 Dr. Margarita, an environmental science teacher, added that "There are major wars and there are all of these clubs doing wonderful things, but what if we got them to collaborate? That would be better."
As people become more conscious of their human footprint, some environmentalists promote reducing and reusing over recycling. Certainly, reducing waste might be a better start than spending millions of dollars trying to sort and recycle our trash, some of which cannot be recycled. The school producing less waste would minimize its footprint.
Mr. Schell agreed that there are other solutions in addition to recycling. When asked about plastic, and how plastic can only be recycled once or twice, he responded, "Using more durable products will help reduce our garbage. There are many types of plastic, and some are durable and others are not durable, so use the durable ones." Doing this will ensure that a product can be used repeatedly, and when recycled, the recycled product will not be as weak as non-durable products.
Alex Kim ('23) agreed with Mr. Schell. "Using reusable tote bags or thermos bottles will help curb our garbage." He also made the suggestion to "turn trash into art," which would simultaneously stimulate creativity and reduce trash in the school.
Brooklyn Tech is trying — but failing — to recycle. Some proposed solutions, like increased education and campaigns on recycling, will help Brooklyn Tech reach its goal. A 2017 NYC Waste Characterization Study by the DSNY found that schools have the "potential to divert as much as 86 percent of their waste for recycling or composting through DSNY curbside collections." This shows that building the infrastructure to recycle/compost our trash will have a huge impact on our community.
As Kline noted, "effective recycling starts from informed citizens," meaning that recycling is effective if we educate ourselves on what type of trash goes where. Kline also said that school campaigns could help make recycling more effective. By doing this, one day, Brooklyn Tech could recycle 100 percent of its waste and become a sustainable model for the community.
Leave a Comment
About the Contributor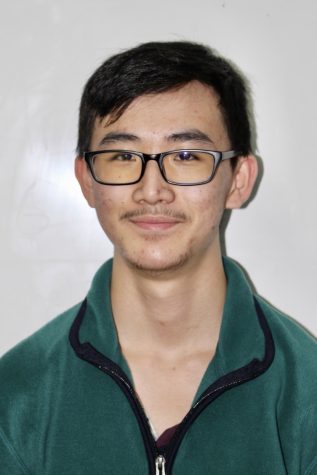 Edward Zheng, Opinions Co-Editor
Edward Zheng (he/him), is an editor for the opinion section of the Survey. Edward believes that great...