A Sit Down With Ed Mecner: Hero from the Schoolhouse to the Firehouse
Ed Mecner has been roaming the halls of Brooklyn Tech for over 50 years. The 66 year-old arrived at Brooklyn Tech in 1970, along with the first two girls to attend the school. Today, he can be seen filling in for your absent teachers or cheering on his favorite Tech teams. Countless students know and love Mecner as a friendly substitute teacher, but few know the other side of him: the firefighter who was on call on one of the darkest days in American history, September 11, 2001.
Mecner grew up on the Lower East Side of Manhattan before moving to Park Slope when he was twelve years old. To him, these areas are now unrecognizable compared to his childhood. "The city's changed. It's not the same place I grew up in," he said. While the SHSAT was not administered until 1996, he passed a similar entry exam after graduating from St. Saviour Catholic Academy and began the short commute to 29 Fort Greene Place.
The two girls whom Mecner entered Brooklyn Tech with did not last long at the school, dropping out sophomore year. "They got a lot of attention, I am sure, and I can see how that could have been hard," he reflected. Twelve girls transferred in soon after and joined his graduating class.
The majors were far different at the time, and Mecner chose a slightly indecisive route: "I did what they called College Prep, which was essentially just a continuation of the first two years. It was not anything specific, but I enjoyed it."
Mecner was also a part of the 1972 Brooklyn Tech football team which reached the City Championship before falling to Far Rockaway in controversial fashion. Despite the unfortunate result, Mecner looks back on the season fondly. "That year was really memorable, and we're still close. That was nearly fifty years ago, and we're still close even now," he said.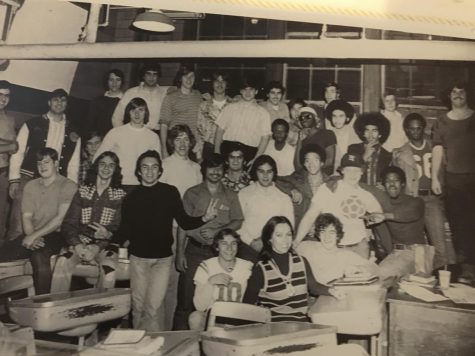 Mecner was unsure of a career path after graduating in 1974. He eventually decided that "practically, [he] could be a gym teacher." He was accepted into Brooklyn College and received a B.S. in Physical Education.
While finishing his degree, he began teaching at the now defunct Wingate High School in North Brooklyn, and a junior high school in East New York. "I worked at some pretty rough schools," he said. He was laid off from both schools, starting what would be a difficult journey in the Department Of Education. It was a trying time for the city financially, and "when you're the new guy, you're always the first to go."
However, Mecner's luck soon turned. In 1980, he was sent to work at Grady High School in Brighton Beach. When he showed up on his first day, he was told that there had been a mix-up in the system. He had actually been assigned to work at Brooklyn Technical High School. He was thrilled, saying, "I was happy to work at Tech. That was my school, it was perfect for me."
Finding a home within Brooklyn Tech also proved difficult for Mecner. He started off teaching five sections of health before being excessed. Tech was able to find a new home for him, but not one he felt entirely comfortable in: "They asked me to teach 'shop.' I was not a licensed shop teacher, but at that time I guess you could get away with things like that."
After being talked into teaching shop for a year, he was excessed again in 1981 and decided that the instability of teaching full-time had become too difficult to manage. He remembered taking a test for the sanitation department in high school and found out he could double his salary by making the switch. It was a no-brainer for him, but he did not leave Tech behind, saying, "I was working 4-12 as a sanitation man, and started subbing at Tech during the daytime. I did that for nine years, it was a lot."
In 1990, Mecner decided to move to the fire department from the Department of Sanitation. Still, teaching remained a significant part of Mecner's life. He worked 24-hour shifts for the FDNY with two to three days off in between each. On off days, he continued to substitute at Tech. Firefighting shifts could be brutal for Mecner, but seeing students provided him a beacon of light in those times.
While the scale of 9/11 may have made it Mecner's most memorable experience as a firefighter, he was in his fair share of dangerous situations. He was suited up for the first World Trade Center bombing in 1993, crawled under train tracks to retrieve five bodies after a train wreck at Union Square, and called into action after a nine story building collapsed that killed five workers.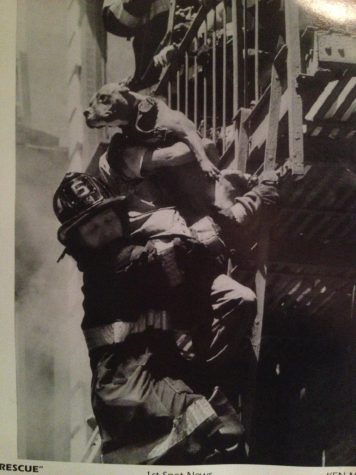 Mecner expressed that it was difficult putting himself at risk every day while raising a family, but he explained that "you realize the dangers that are there. There is a certain factor of danger just from living in New York City. They're calculated risks and you try to minimize those, but I did what I had to do."
Mecner's biggest risk came eleven years into his firefighting career, on a day that would change the course of history. While on the scene, Mecner had no idea of the scale of the tragedy he was witnessing, saying, "We knew it was more than a little Cessna plane, but we didn't know that it was intentional, and we didn't know that the South Tower got hit."
Mecner and his crew arrived at the North Tower on the morning of the attacks and began to climb the stairs. Members of his unit began to have chest pains and breathing difficulties. There was no smoke at this point, but "just the anxiety, and having to climb up the stairs with 60 pounds of equipment, and that day it was really hot out [led to issues]." After reaching the 23rd floor, he heard a sound like a missile was about to come through the windows and everybody fell to the floor. One minute later, there was an order to evacuate. He made it out of the building two minutes before it collapsed.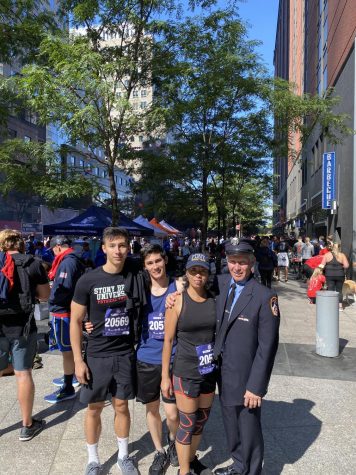 Twenty years later, Mecner says his memory of the day is still strong. "It's fairly clear. I remember most of what happened. I remember seeing people run down the stairs with burns on their arms. After exiting the building, I remember seeing remains and body parts in the courtyard," he remarked.
Of the 343 firefighters who lost their lives on 9/11, Mecner believes he was friends with about half of them. Any day he had off was spent attending funerals. There was at least one, if not more, each day. Mecner believes he came away from the event without extensive trauma. "I don't think I did [experience PTSD]. That can happen at any point, but I think I dealt with it fairly well. A few of the guys I worked with had a really hard time with it. For me, I think getting back to doing my running and getting back to the gym really helped. Just doing your normal everyday tasks. Doing the laundry, taking care of the car, maintenance. You know, you still have to pay rent. You still have to pay the electric bills," he said.
Brooklyn Tech helped Mecner survive through this tough time. "Coming into the school helped a lot," he said. "I was always involved with the students and with the different teams. Just asking kids how their day was going and what they were up to. It was a great distraction, and definitely helped a lot."
Eight years later, Mecner's firefighting career came to an end – a difficult decision for him. "I knew it was time. My body was beat up, my back was hurting me, my shoulders were hurting me, I was 54. I knew it was over," he said.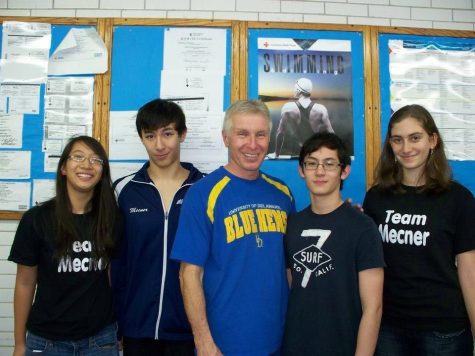 While losing a family he had seen most days for almost thirty years, Mecner found himself incredibly lucky to have another family to turn to at Tech, one which he still sees daily. "The best part of my day is seeing the students. There are great kids here. I just like how the school runs. Everyone is very friendly and polite. It's a community."
Leave a Comment