New Faces At Tech: Up Close with Mr. PettyJohn and Mr. Gale
As thousands of new freshmen and sophomores acclimate to the halls of Brooklyn Tech, as well as juniors and seniors who have not seen their classmates in over a year, many are being overloaded with unfamiliar faces. This list of new faces includes nine new English teachers. The Survey conversed with two of them — Mr. Gale and Mr. Pettyjohn — to provide an inside scoop on their transition into Tech.
Mr. Gale
Mr. Gale has been teaching in New York City for eight years before arriving at Brooklyn Tech this year. He was previously a teacher at Hunter College High School, but decided to make the move to Brooklyn Tech due to tenure problems. When the opportunity to teach at "one of the greatest schools in Brooklyn " surfaced, the decision to teach at Tech was a "no-brainer" for Gale.
Compared to the small student body at Hunter, averaging at 250 students per grade,  Gale was hugely unaccustomed to the size of Brooklyn Tech. "I was blown away by the building itself; I mean there is even a plane engine here."
While it might take some time to adapt to the size of Tech, the transition was helped by the community of students and teachers Gale instantly met. "Camaraderie has grown alongside the network of new teachers… Everyone has been so welcoming; they say here's my lesson plan if you want to look over it," he said.
He explained that Tech and Hunter are very different communities: "At Hunter it seemed like there was more competition among teachers, while everyone here is so friendly and open to each other… Tech kids overall seem kinder to each other."
Gale grew up in Queens and attended Hunter High School himself. His grandmother, who also taught, inspired him to become a teacher. As a child, he spent a lot of time with her, as she would help him with his homework. "I remember on multiple occasions someone would knock on her door, and ask her if she was their old teacher, and they would be like 'you taught me 30 years ago, and I just wanted to tell you how amazing your class was…' It was really amazing how grandma was able to have such a profound impact on so many people's lives," Gale recalled.
As he transitions to Brooklyn Tech, Gale hopes to carry the values of care and consideration that his grandmother instilled in him.
Outside of school, Gale is an avid singer and was in an Acapella group, The Pikers, at Washington University. He has also been in multiple bands and loves sports. Gale hopes to eventually coach JV baseball at Tech.
Gale feels that he was similar to a lot of Tech students growing up. "I was pretty nerdy, I really liked learning… As a senior, I was a TA (teaching assistant) for a teacher I loved. It should have been a sign at the time that I wanted to teach, but all I thought was, this is fun, this is instead of a class. How awesome is that?"
Gale is excited for this year. It is hard to be a new face, especially at a high school as massive as Tech, but the community has been extremely welcoming. He appreciates how hardworking and kind Tech faces are, and he already loves the school.
Mr. Pettyjohn
Another new English teacher is Mr. Pettyjohn, whose experience transitioning to Tech has been similar to Mr. Gale's. Pettyjohn has been teaching in New York City for five years. Before coming to Tech, he taught at the Cultural Academy for the Arts and Sciences in East Flatbush — a school of only 250 total students.
When asked about adjusting to the new environment at Tech, Pettyjohn said, "It's much more chaotic, as I have so many students. All the students here are very driven and focused on their school work."
Pettyjohn grew up in a small, rural town in Virginia, where "everyone knew each other." He loves the diverse, melting pot of New York City and Brooklyn Tech in contrast to his more homogeneous upbringing.
"This school is much more diverse than my old school, which is nice. There are a lot of different faces, types of people from different backgrounds. It's been great to meet all these new kinds of people," he said.
He sees similar parallels on the transition between the Cultural Academy and Brooklyn Tech: "For me, I see a giant building and I'm like whoa, this is awesome. It's awe inspiring."
Beyond the classroom, Pettyjohn loves watching movies. Some of his favorites include There Will be Blood, Rushmore, and Good Time. Pettyjohn also likes to run competitively, as he is currently training for a half marathon.
When Pettyjohn thinks back to his years at high school, he recalled the type of student he was in the classroom: "[I was] a big talker, probably a class clown type. I probably annoyed my teachers." Like his own students, he had his fair share of classes he struggled with. "I was pretty bad at math. I would fall asleep every single day in calculus," he laughed.
Mr. Pettyjohn ended his interview by expressing his eagerness for the upcoming school year and his already growing love for Tech. "The students here are so friendly and warm to me. They say 'have a great day,' and seem to have a very positive school culture. It has been very memorable to have all these kind, hard-working kids," he said.
Leave a Comment
About the Contributor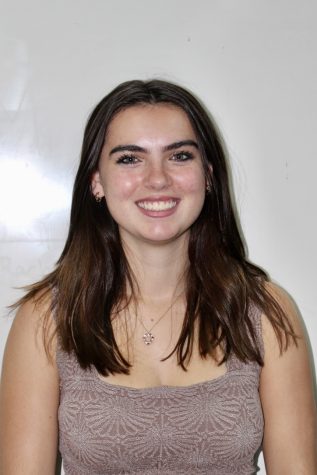 Annabelle Savio, Features Editor
Annabelle Savio (she/her) is the editor for Features. Annabelle values the field of journalism because...